AQF conducts product inspections on behalf of importers in Taiwan and other Asian countries. Our local QC team in Taiwan is Western managed. Our inspectors have experience in a wide array of different product types, such as vehicle parts, electronics, precision instruments and others. We can also provide you factory auditing services in Taiwan if you need to verify a supplier.
Why product inspection in Taiwan is essential for importers there
Some quantity of product defects or other quality issues is generally unavoidable in mass production—no factory manufactures flawless products 100 percent of the time. And if an order from your supplier in Taiwan has products that don't conform to your requirements, you may have to spend extra time and money resolving issues in the goods received.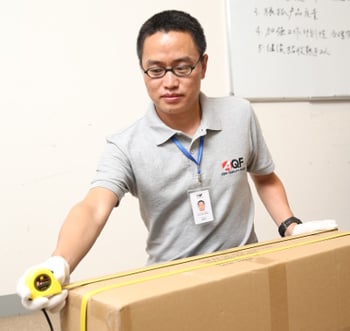 But if you conduct verify the goods before they leave the factory, you can avoid extra costs and ensure you're getting what you've paid for. Product inspection in Taiwan allows you to find any problems with your product and address them with your supplier quickly. This helps you limit shipping delays, avoid receiving faulty goods and even prevent a product recall.
Your supplier's factory likely has an internal QC team in place at their factory. But many importers turn to a third-party inspection company for more thorough and reliable reporting. A professional inspection company offers an unbiased inspection, since their staff aren't employed by the factory. The challenge for many importers, is finding a third-party that has expertise in their product category.
Where you benefit from AQF's product inspection services in Taiwan
AQF conducts product inspection in Taiwan so you're well informed on the current status and condition of your order without having to travel to the factory yourself.
At AQF we stress the importance of integrity and accountability in all of our services, so you can be confident that the detailed inspection results from our local team of quality control staff are accurate. Our team will also:
Collaborate with you to create customized inspection criteria and a QC checklist
Conduct any relevant product testing on-site
Measure and report any product dimensions
Compare product samples from mass production to any CAD drawings and "golden" samples to confirm product conformity
We work to make sure your supplier and your product conform to your criteria. By conducting product inspection in Taiwan, you can be sure of your product before it leaves the factory.